Accepting (and Defining) Reality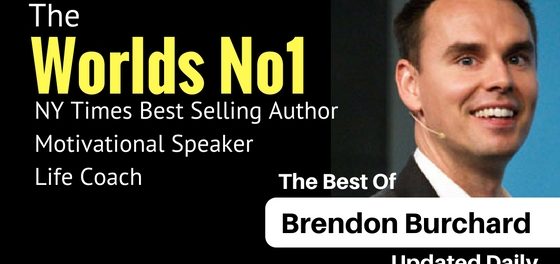 Get the audio/text of this episode:
Get Brendon's new book free:
Join Brendon's 2MIL FB fans:
Tweet Brendon:
Instagram:
LinkedIn:
In this episode of The Charged Life, high performance coach and #1 New York Times bestselling self-help author Brendon Burchard shares how our definitions and meaning of reality can impact our lives.
This is Brendon speaking freestyle, recorded in one take without prompter or notes.
——————–
SUMMARY:
——————–
Some people never accept reality. And perhaps that's a good thing, for what is real? If we aren't careful about how we define reality or attach labels and meaning to it, we can begin to drown in negativity and pessimism. People with personal power accept what is in front of them only after they have carefully defined its meaning for themselves. Learn how, get the full summary of this episode, and download the free podcast, all right here:
——————–
ABOUT BRENDON
——————–
Brendon Burchard is one of the most followed personal development trainers of our time, and he is in the Top 100 Most Followed Public Figures on Facebook. A #1 New York Times bestselling author, his books include The Motivation Manifesto, The Charge, The Millionaire Messenger, and Life's Golden Ticket. A car accident at the age of 19 inspired Brendon to turn his life around and follow his dreams to be a writer and trainer. After failing at first – he went bankrupt trying but he never gave up – he became a multimillionaire by the age of 32. Since then, he has dedicated his life to helping others find their charge and share their voice with the world.
Brendon's posts now reach more than 10,000,000 people per week worldwide. He is the star and executive producer of the #1 self-help show on Youtube, and his podcast, The Charged Life, debuted at #1 on iTunes across all categories in multiple countries. His seminars include High Performance Academy, the legendary personal development program for achievers, and Experts Academy, the world's most comprehensive marketing training for authors, speakers, coaches, and online thought leaders. For these works, Larry King named Brendon "one of the top motivation and marketing trainers in the world" and SUCCESS Magazine named him in their Top 25 Most Influential in Personal Development along with legends like Oprah, Tony Robbins, Joel Osteen, Dave Ramsey, Deepak Chopra, and Wayne Dyer.
Meet Brendon at
——————–
ABOUT THE CHARGED LIFE
——————–
The Charged Life is a weekly self-help show full of #motivation, #inspiration, and #high performance strategies with bestselling author, motivational speaker and High Performance Academy founder Brendon Burchard. Filmed in one take, without any notes or prompter, the show has become one of the most viewed direct-to-camera self-help series in the history of Youtube. It has also been the #1 Podcast in all of iTunes and is regularly in the top podcasts in Self-Help and Health categories around the globe. Subscribe to the free motivational podcast here:
——————–
SUBSCRIBE ON YOUTUBE OR ITUNES
——————–
Never miss a video:
Download all the audios/podcasts: