Is Eating FullyRaw Extreme?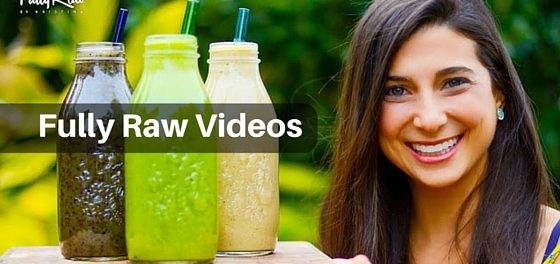 Is eating a raw food diet extreme? Here are my top reasons that I believe that eating a FullyRaw lifestyle is not extreme.
Many people confront me and tell me all the time that eating FullyRaw is too extreme. Is it extreme? When did eating fruits and veggies become extreme? Our society has become so processed that eating fruits and veggies is now uncommon. People judge and criticize, but perhaps there is a lot to understand here. I'm hoping to bring a positive light to this topic and inspire a greater level of health!
What does it mean to eat FullyRaw? It is eating a diet composed of purely fruits and veggies, in their natural states. Fruits, veggies, nuts, and seeds, uncooked, as you would in nature. I may call it "getting back to my roots," but some call it extreme. Perhaps it may be to some, but for me, I am just being ME.
Even if you are not vegan or raw, it doesn't matter. Eating more Fullyraw foods in your diet or trying to eat ONE Fullyraw meal a day will HELP YOU. It WILL benefit you! These tips are here to shift your mindset! I'm not here to preach, I'm merely here to debunk myths and INSPIRE YOU to a greater level of health. It's all about our perception.
Here are my top reasons on why I believe that eating FullyRaw isn't extreme!
1) PROCESSED FOODS ARE EXTREME.
2) MOST VITAMIN AND MINERAL RICH DIET ON THE PLANET. Many people get concerned and want to know if I am getting all of my vitamins and minerals. I eat a high vitamins and minerals rich diet.
3) AIDS IN WEIGHT LOSS AND COMBATS OBESITY.
4) FOOD AS NATURE INTENDED: Not cooking your food. Keeps things simple. It's the "original" diet.
5) LET FOOD BE THY MEDICINE: Doctors and pharmaceutical companies have gained bad reputations for trying to prescribe more medication than is needed in order to make more money. Let food be thy medicine!
6) FAST FOOD: SO easy to prepare! It's literally as easy as biting into an apple or peeling a banana! If you get bored with recipes, I have TONS on my channel that you can try!
7) INCREASED ENERGY LEVELS AND ATHLETIC PERFORMANCE: Your energy levels skyrocket! Exercise: better performance and faster recovery! I used to be the slowest kid in gym class. I used to be too sick to exercise. Now, I run 8-10 miles a day and LOVE it!
8) DISEASE PREVENTION: Cancer, Diabetes, Heart-Disease, Name it! Greens, Juices, Smoothies: all alkalizing. Disease cannot exist in an acid state. Meat and dairy all create an acidic state in your body. When you are alkaline, you can fight off disease and feel LIGHT and healthy ALL the time!
9) BETTER SEX DRIVE
10) BETTER SLEEP!
11) FOOD FREEDOM! Abundance not restriction. Eating until satisfied and not starving yourself.
12) GLOWING SKIN: You can get rid of your acne simply by eliminating gluten, dairy, and meat from your diet! No pills or creams needed! Again, saving you more money!
13) BETTER DIGESTION AND ELIMINATION: 90 percent of Americans are constipated and don't even know it! Decrease in stomach aches, heartburn, acid reflux, etc.
14) EMOTIONAL STABILITY AND HAPPINESS: Raw foods are cleansing foods! My attitude shifted from helpless and hopeless to enlightened, hopeful, and inspired! It's hard NOT to learn how to feel better when you are eating foods that are SO bright and colorful. When you feed your body nutrient rich foods, you ALSO feel rich inside!
15) CHANGE YOUR PLATE, CHANGE THE WORLD & ENVIRONMENT
16) RESPECT FOR ALL LIVING THINGS
17) COMMUNITY
18) YOU LEARN THE ART OF SELF-LOVE. Not many people can say that. One of the most POWERFUL lessons that I have learned is how to love myself 100%. How to have confidence, clarity, and SELF-LOVE. When you shine bright, the whole WORLD shines bright!
It's not a diet, it's a LIFESTYLE. Remember that if you want this change in your life, you can have it! I believe that this lifestyle is not extreme, it's necessary for change. I want to see this world become a more colorful, healthy, and loving place. Lettuce get there together! Hugs!
Want to keep up with me daily?
❤ Co-op:
❤ FullyRaw:
❤ FullyRaw You Tube:
❤ FullyRaw Kristina Facebook Page:
❤ Kristina's Personal Facebook Page: …
❤ Kristina's Bio:
❤ Kristina's Blog:
❤ ROC Facebook:
❤ Rawfully Organic Twitter:
❤ FullyRaw Twitter:
❤ FullyRaw Kristina Instagram: …
❤ FullyRaw Kristina Pinterest:
Filming & Editing by Matt Garza of